Archive for February, 2010
by Eric "smurph" Murphy on Feb.27, 2010, under geek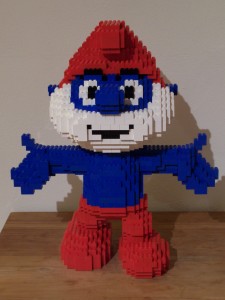 If you don't know by now that I have a life long connection to the Smurfs by namesake, you should just leave this blog and never come back. Just kidding. I saw this today and was amazed. This is SOOOO cool I want to build one myself and keep it in my non-existent office, right next to all the other geeky things I want to build (like a Mame cabinet).
Pure. Awesome.
It's a Smurfy Day | The Brothers Brick | LEGO Blog.
Thanks to bs angel of Hawty McBloggy for thinking of me 🙂
Leave a Comment
:Legos, smurfs
more...
by Eric "smurph" Murphy on Feb.27, 2010, under gaming, IRL
My wife surprised me yesterday with a Wii for our anniversary! We only have Super Mario Party 8 and Wii Sports but we'll be adding more to our collection soon. We also had a GameCube way back when we started dating so we'll dig those games out too.
So far the Wii is exactly what I've expected. Lots of fun, simple games that get you off of your chair/couch which is a nice change. I'm impressed with all the channels available but the community features are lacking. What the hell is with the Wii ID code thing? That's just ridiculous.
Graphics, of course, could be better. Its hard to go from Xbox 360 to Wii but at least the graphics are very clean and pleasant to look at. I like the integrated WiFi (connection was a breeze) but I would have opted for an ethernet port since I already have a switch in my cabinet.
Overall, I'm really excited about having a Wii finally. I'm excited that Payton should be able to start playing some of these games. Of course, its every gamer dad's dream of having kids that will game with them. My wife rocks!
If you have a Wii, feel free to add me. My code is: 4351-0219-0087-7428
Leave a Comment
:family, gaming, Wii, Xbox 360
more...