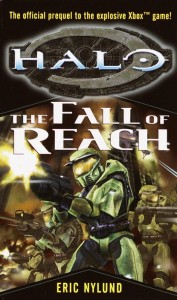 I've had all the Halo books on my Amazon wishlist for a while now, but none of those wishes have come true. That is, until my wife ran into The Fall of Reach at Goodwill a few months back and we promptly bought it. I finally got around to cracking the book open Saturday morning while Erika was out and I literally could not put it down. I spent the majority of my free time this weekend reading that book and I finished it last night in bed.
This is a great little novel if you're a Halo fan. I've (obviously) played through all the games but, like most games, the Halo series fails to explain the history of the conflict. A lot of the characters you meet in the games have very colorful histories, and perhaps the most surprising to me, was Captain Keyes. Even Master Chief, the hero of the series, known for being the silent type and nearly void of personality, has a lot of secrets in his past. There is one other character who has some very interesting twists, but I'm not going to spoil that one. Lets just say he/she only looks sweet and innocent in the game.
If you're a Halo fan, The Fall of Reach is a must-read, especially before Halo: Reach comes out this September. There are so many details in the book that clear up the story lines in the games. It makes me want to play through all the games again now that I know more of the back-story.
If you're not a Halo fan… you should be. I'd honestly recommend playing at least Halo: Combat Evolved before reading the book. The book is good but I don't think it would be as interesting to someone who doesn't already know the characters and the ending. I could be wrong. It's hard to judge this book on it's own without taking the games into context as well.
If I've piqued your interest, head over to Amazon and pick it up! There are many other Halo books available as well and I will be digging into those soon (I might opt for the audio-books to make my two hour daily commutes more interesting). Now, time to fire up Halo CE!