by Eric "smurph" Murphy on Jul.11, 2010, under IRL
Last Sunday was Independence Day so we set off some fireworks at the lake. Erika captured me getting the next round of fireworks ready while a very bright firework was going off. The result is pretty stunning and it really preserves this memory well. Very nice shot Erika!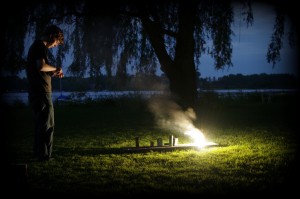 See Sparks in July at Flickr.
---
Eric is a software engineer and father of two, who's hobbies include video games, open source software, and just being a geek.
Read more from this author
---
:Erika, photography, POTW