by Eric "smurph" Murphy on Jul.19, 2010, under IRL
Another late one! I've been so engrossed in The Fall of Reach this weekend so this slipped my mind. Anyway, this week I chose a very nice shot Erika took of a statue in a graveyard. It's a strikingly beautiful scene with the sun shining through the trees. The aged and mossy statue looks so peaceful.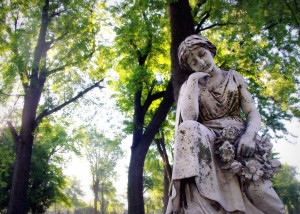 See Untitled at Flickr.
---
Eric is a software engineer and father of two, who's hobbies include video games, open source software, and just being a geek.
Read more from this author
---
:Erika, photography, POTW