by Eric "smurph" Murphy on Jul.25, 2010, under IRL
We just got back from a weekend vacation away from the kids. We went to Door County, WI. which is famous for their wine. One of our stops was Lautenbach's Orchard Country Winery & Market where we tasted wines and picked cherries. Erika took some great photos of our buckets of cherries. I'm sure she'll post more this week but I really like the one she posted already. The colors are so rich and vibrant.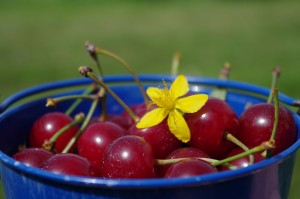 See Untitled at Flickr.
---
Eric is a software engineer and father of two, who's hobbies include video games, open source software, and just being a geek.
Read more from this author
---
:Erika, photography, POTW