Yesterday, we drove up to Green Bay to the Green Bay Botanical Garden. The gardens are gorgeous! There's so much to see and there's even a section for kids. Payton had a lot of fun filling up her watering can and watering the animals sculpted out of moss. I think Emma's favorite part was finding huge melons hanging from a lattice overhead. They made for a very warm and interesting photo (below). On they way home we stopped at Gilly's Frozen Custard. Their custard was absolutely delicious and I highly recommend them if you're ever in Green Bay, Fond du Lac, or Sheboygan.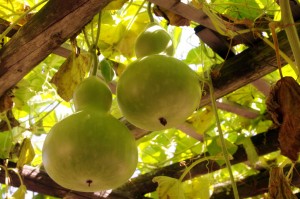 See Untitled at Flickr.
---
Eric is a software engineer and father of two, who's hobbies include video games, open source software, and just being a geek.
Read more from this author
---